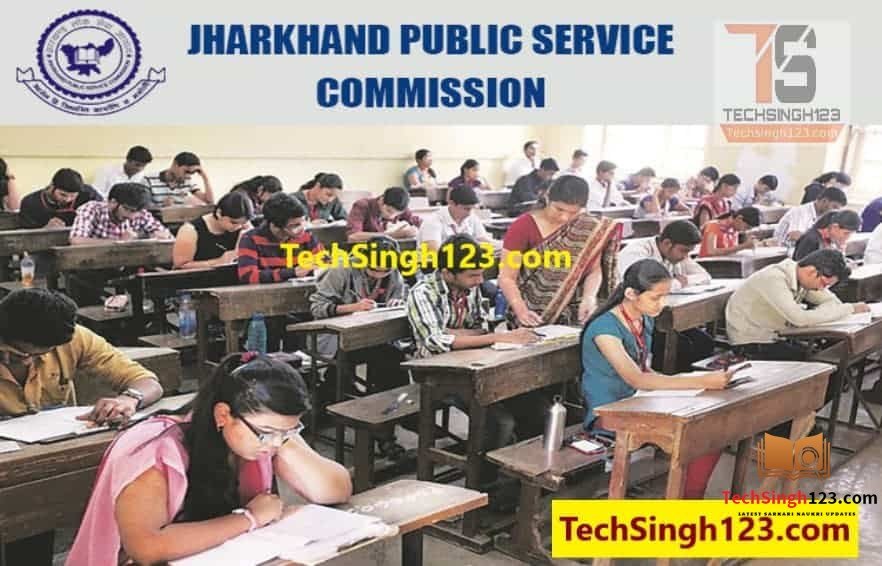 JPSC Recruitment 2020-2021 JHARKHAND PUBLIC SERVICE COMMISSION (JPSC): झारखंड लोक सेवा आयोग ने 380 चिकित्सा अधिकारी, पदों के लिए है l JPSC Recruitment 2020-2021 JHARKHAND PUBLIC SERVICE COMMISSION Apply Latest JPSC Vacancies Recruitment For 380 Medical Officer Posts in JPSC JPSC Recruitment 2020 – Apply for 380 Medical Officer Vacancy. Get Eligibility details for Jharkhand Public Service Commission Jobs here
JPSC Recruitment 2020-2021
सभी उम्मीदवारों से निवेदन है की Jharkhand Public Service Commission के लिए आवेदन करने से पहले सभी आवश्यक जानकारियाँ पढ़ लें उसके बाद ही आवेदन करें। इसके साथ साथ अन्य राज्यों की भर्तियाँ PSC Jobs देखें।
Vacancies & Eligibility Criteria (रिक्तियां और पात्रता):-
| | |
| --- | --- |
| पदों की संख्या (Number of Post) :- | 380 पद |
| पदों का नाम (Name of Posts) | शैक्षिक योग्यता (Qualification) |
| चिकित्सा अधिकारी/ Medical Officer | मेडिकल काउंसिल ऑफ इंडिया द्वारा मान्यता प्राप्त और राज्य सरकार द्वारा मान्यता प्राप्त मेडिकल कॉलेज से MBBS |
नोट :- कृपया अधिक सटीक जानकारी के लिए इस नौकरी के लिए प्रकाशित आधिकारिक सूचना की JPSC Recruitment 2020-2021 JHARKHAND PUBLIC SERVICE COMMISSION (JPSC) झारखंड लोक सेवा आयोग में आई भर्ती 2020 Notification जरूर देखें।
JPSC Important Dates (महत्वपूर्ण दिनांक):-
नौकरी प्रकाशित होने की तिथि: 07-04-2020
आवेदन करने के लिए अंतिम तिथि: 05-06-2020
Age Limit & Relaxation in JPSC (आयु सीमा):-
उम्मीदवार की आयु 35 वर्ष होनी चाहिए। कृपया आयु में छूट एवं अन्य जानकारियों के लिए प्रकाशित JPSC Recruitment 2020-2021 JHARKHAND PUBLIC SERVICE COMMISSION (JPSC) झारखंड लोक सेवा आयोग में आई भर्ती 2020 Notification देखिये।
Selection Mode in JPSC (चयन प्रक्रिया):-
इस Sarkari Job में साक्षात्कार, लिखित परीक्षा और वायवा वॉइस में प्रदर्शन के अनुसार कैंडिडेट का सिलेक्शन होगा, चयन प्रक्रिया की सम्पूर्ण जानकारी के लिए नीचे Official JPSC Recruitment 2020-2021 JHARKHAND PUBLIC SERVICE COMMISSION (JPSC) झारखंड लोक सेवा आयोग में आई भर्ती 2020 Notification जरूर चेक करें।
JPSC Salary (सैलरी कितनी मिलेगी):-
वेतनमान 9,300 – 34,800/- INR रहेगा, कृपया सैलरी संबंधित अधिक जानकारी के लिए JPSC Recruitment 2020-2021 JHARKHAND PUBLIC SERVICE COMMISSION (JPSC) झारखंड लोक सेवा आयोग में आई भर्ती 2020 Notification जरूर चेक करें
इच्छुक उम्मीदवार ऑनलाइन आवेदन कर सकते हैं इसके लिए नीचे दिए गए आवेदन लिंक पर क्लिक करें, कृपया आवेदन करने से पहले ऑफीशियल JPSC Recruitment 2020-2021 JHARKHAND PUBLIC SERVICE COMMISSION (JPSC) झारखंड लोक सेवा आयोग में आई भर्ती 2020 Notification जरूर चेक करें।
JPSC Application Fees (आवेदन फीस):-
Gen/ OBC: 600 + बैंक चार्ज एवं SC/ ST: 150 + बैंक चार्ज अधिक जानकारी के लिए ऑफिशियल JPSC Recruitment 2020-2021 JHARKHAND PUBLIC SERVICE COMMISSION (JPSC) झारखंड लोक सेवा आयोग में आई भर्ती 2020 Notification जरूर चेक करें।
Sarkari Results, सरकारी रिजल्ट्स – TechSingh123.com provides you all the latest official Sarkari Result, Online Forms, Sarkari Naukri Jobs in various JPSC Recruitment 2020-2021 JHARKHAND PUBLIC SERVICE COMMISSION (JPSC) झारखंड लोक सेवा आयोग में आई भर्ती 2020 Notification
कृपया, इस JPSC Recruitment 2020-2021 JHARKHAND PUBLIC SERVICE COMMISSION (JPSC) झारखंड लोक सेवा आयोग में आई भर्ती 2020 Notification के जानकारी को अपने दोस्तों और साथ ही साथ अपने भाई-बहनों के साथ भी शेयर करें। एवं उनकी हेल्प करें एवं अन्य सरकारी भर्तियों (Sarkari Naukri), की जानकारी के लिए TechSingh123.com पर प्रतिदिन विजिट करें।
महत्वपूर्ण लिंक (Important Links):–
Note: आप के एक Share से किसी का फायदा हो सकता है! तो अधिक से अधिक लोगो तक Share करें ! हर रोज इस वेबसाइट पर आप सभी को, सभी प्रकार की सरकारी नौकरी की जानकारी दिया जाता है । तो आप सभी प्रकार के Sarkari Naukri की जानकारी पाना चाहते हैं । तो इस TechSingh123.com वेबसाइट के साथ हमेशा जुड़े रहे हैं और यहां पर Daily Visit करें ।
JPSC Recruitment 2020: Jharkhand Public Service Commission – FAQs
How many vacancies are there for Forest Department Posts?
There are currently 380 Medial officer.
When is the Last Date for applying for these jobs?
Application Last Date: 05-06-2020
What is the Age Limit for Forest Department?
For Gen/ UR Candidates
18 – 35 yrs. (as on 01.01.2020 )
Relaxation ( in Upper age limit )
05 years for SC/ST candidates
03 years for OBC (A & B) candidates
What is JPSC Full Form?
The Full Form of JPSC is Jharkhand Public Service Commission.
What are the Jobs in JPSC?
Medical Officer Vacancy in JPSC Recruitment 2020. JPSC will show all the active jobs on the current dates. The jobs will be available for various posts and various exams to be conducted by the JPSC. So candidates can visit the JPSC and if they are eligible for the job they can apply for it.
What is the Salary of Medical Officer in JPSC?
The salary for a Medical Officer will be fixed by the JPSC before the exam. In the official notification, the officials will mention the salary for the Medical Officer in detail along with other details like age limit, eligibility criteria, etc., From the notification, it is clear The salary for Medical Officer is 9,300 – 34,800 (Per Month).